AURA LED Lighting Kit for Truck Bundle (DreamColor Underglow LED Kit - Remote Control + Tailgate Triple Light Bar + Sidekick LED Kit)
AURA-DREAMCOLORBAR-TRP60REDTAILGATE-SIDEKICK60-BUNDLE
20% OFF Using Coupon Code: 20XMAS2023
Date: Dec. 8th - 19th PST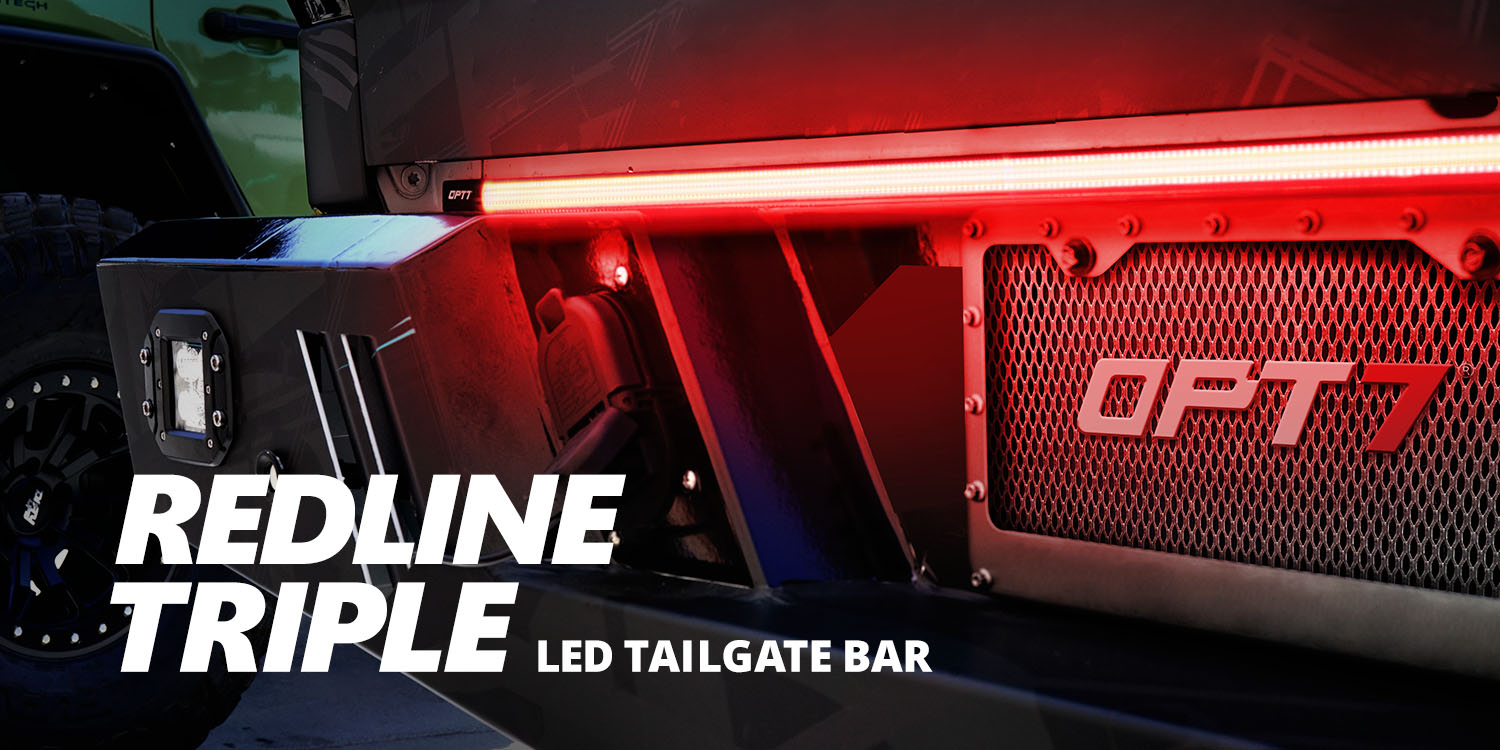 Top Features of the AURA DreamColor Chasing Underglow Lighting Kit
With built-in IC, DreamColor is never a dream, lit your car on the road with color chasing mode! Complete DreamColor Underglow Kit features everything you need to make your ride stand out! Includes 4pc (2 x 48" + 2 x 36") waterproof rigid light bar, wireless remote, detailed instructions, extension cords, and mounting hardwire.
Top Features of the Redline Triple Row Tailgate Light Bar
Redline Triple offers 5 functions: running, turns, brake, reverse, and hazards. 200-300% Brighter than 1st gen and most competitors on the market.
IP67 waterproof body, gives your truck that premium look and gets you seen out there on the road.
The Triple Tailgate has 2 installation methods: Plug & Play and hard-wired.
1) Triple Tailgate Only (Plug & Play): Vehicles that do not have any of the following equipped:
Rear Camera
Back-up/Parking Sensor
Trailer Assist Feature (HUD display that provides trailer connection status notifications)
BLIS (Blind Spot Notification Signal)
 2)Triple Tailgate (Hard-wired)
BLIS (Blind Spot Notification Signal)
Rear Camera
Back-up/Parking Sensor
Trailer Assist Feature (HUD display that provides trailer connection status notifications)
ALL 2019 + VEHICLES
 You will need the HARDWIRE HARNESS to help hardwiring - Click Here
 Or you may use our OPT7 Redline Easy Connect Harness.
Top Features of the Sidekick Sequential Running Board
Equip yourself to stand out with fully automated, multi-function running board strips. Show the other drivers how it's done.
Running Board Lights: A striking big rig-style amber light glowing at all times.
Sequential Turn Signal: An exclusive 1-2-3 muscle car-style Amber flash to let them know what's coming.
Courtesy Step-up: A luxurious white courtesy light that helps you and riders make an entrance.
All of these features can be easily wired to run at all times. No need to pick one feature over the other.
In this bundle, the kits will include:
Full Color Spectrum with SmartColor™ LEDs. 
AURA™ items are made with SmartColor™ LEDs. Our revolutionary LED design combines Micro-LEDs of all 3 primary colors into a single SMD (Surface Mounted Device). This allows a perfect mixture of color at the micro level, emitting a more pure, brilliant light color.
Built Tough. Built for the Road.
OPT7 items are built to last. Our kits are designed to protect against road debris, moisture and anything life can throw at it.
Mounting is Easy. 
The AURA™ DreamColor Underbody Light Kit come with rigid aluminum light bars, so you can easily arrange them in a way that works best for your vehicle. Once you've mounted your light bars, you just need to plug them into the control box. We've included four 10ft cable extensions to make things even easier!
E-Z Programming.
Once installed, easily select the color and pattern you want with our feature-rich E-Z Remote.
Multi-color selections
Brightness dimming selections
On the E-Z Remote, our modes are: Solid, Single Color Strobes, Multi-Color Fade, Multi-Color Cycle, and SoundSync.
Door-Assist-Entry (Light white upon door open)
IMPORTANT NOTICE:
These products are intended to be connected as is, you may add our expansion kits; however, it should not exceed more than 1 AURA kit + 1 AURA Single Row Expansion kit.
AURA LED Lighting Kit using one set of 2pc 12-inch Single Row LED strips kit or one set of 4pc 4-inch Single Row light strips expansion kit.
Warranty Covered:
-AURA Dreamcolor Underglow Kit and Sidekick Running Board 60" Sequential are backed by OPT7'S 1 Year Warranty.
-Tailgate Triple Light Bar is backed by OPT7's 2 Year Warranty.
Installation Guide
AURA DreamColor Underglow LED Chasing Lighting Kit w/Remote Installation Guide - HERE
Redline Triple Tailgate Light Bar Installation Guide - Here
Sidekick Running Board Installation Guide - Here
CA Residents: 
WARNING: Cancer and Reproductive Harm - www.P65Warnings.ca.gov