OPT7 Photon RGB 8PCS LED Rock Light w-Magnet Wide Angle Underglow Neon Lighting Kit
PHOTON-ROCK-LIGHT-RGB-KITS-8PCS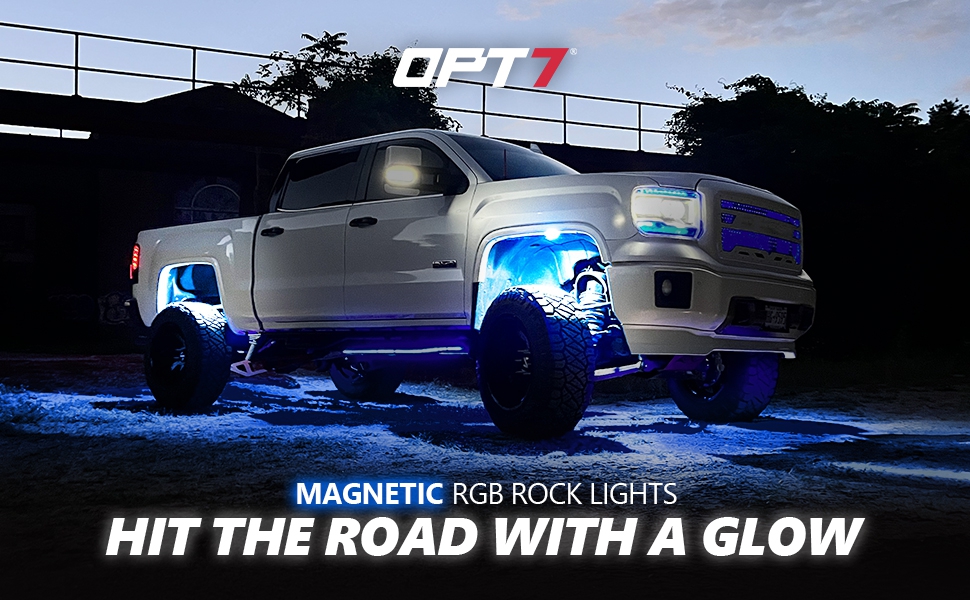 The OPT7 Off-Road Experience
These exclusive Rock Lights have been engineered by the OPT7 Team to take your off-road experience to a new era. Designed specifically for extreme terrain, the Photon LED Rock Lights are the next evolution in our off-road product line. The magnet installation method provides you with the easiest way to mount the pods to anywhere you like. Multiple color options illuminate over 10 square feet making sure that your rig is equipped with unmatched style on and off the road.
3 Ways to Install - YOU CHOOSE! Or use 'em all! 
Magnet, Adhesive, Screw - the choice has always been yours. Now you can select one, two, or three ways to install the rock light pods.
Magnet
No need to drill into metal surfaces, now you can use this easy-to-install magnet to your rock lights for a hassle free installation experience. no harm to your vehicle and freely to move pods anywhere, anytime.
 -Able to uphold up to 13.23lbs vertical pull force.
 -Using a large Neodymium rare earth Magnet this adapter bonds to solid metal surfaces without the use of additional mounting hardware.
 -Magnet is wrapped by a rubber layer coated to protect the vehicle from scratching.
Automotive Adhesive Tape
No drilling needed, easily applied - it ain't going anywhere.
Demonstrates high strength and double sided long-lasting bond made from high performance acrylic adhesives.
Provides exceptional strength and has greater durability and elasticity than conventional double-sided foam tape.
Mounting Screw
Use the mounting kit provided to drill and screw the pods.
 - 8 x Phillips Self-Tapping Screws
 - 8 x Hex Socket head Cap Screws
Photon RGB Technical Info:
Input Voltage: DC 12V
Input Power: Max 9.6Watts per Pod
LED Color: 6pcs - RGB per Pod
Raw Lumens: 600LM (4 Pods Combined)
Waterproof: IP68 (Only Pod)
Operating Temperature: -5℉ ~ 120℉ 
Photon RGB Rock Light Package Includes:
8 x Photon LED Pod
8 x 10ft Extension Wire
4 x Y-Splitter
2 x 12V Power Harness
1 x Photon Control Box
2 x EZ - Hand Held Remote
8 x Double-Sided Tape
16 x Magnets
2 x Hardware Power Harness with Inline Fuse
32 x Mounting Screw
60 x Zip-Ties
The Photon RGB LED Rock Lights with Magnets are backed by OPT7.
NOTICE: If your vehicle is longer than 20ft long, you will need additional extension wires to work with your rock light kit.
CLICK HERE for Photon RGB Extension Wire
Warranty
 - Includes our free 1 Year Warranty
 - Got questions, issues, or concerns?
 * Reach out to our Customer Support Team by emailing , and we'll respond to your email within 1-2 business days
Installation Guide.
AURA Photon RGB Rock Light Kit - CLICK HERE
CA Residents:  WARNING: Cancer and Reproductive Harm - www.P65Warnings.ca.gov