OPT7 09-14 F150 Black AURA RGB-W DRL LED Tube Headlights Projector -Bluetooth BUILT IN Full Color
REX-F150-09_14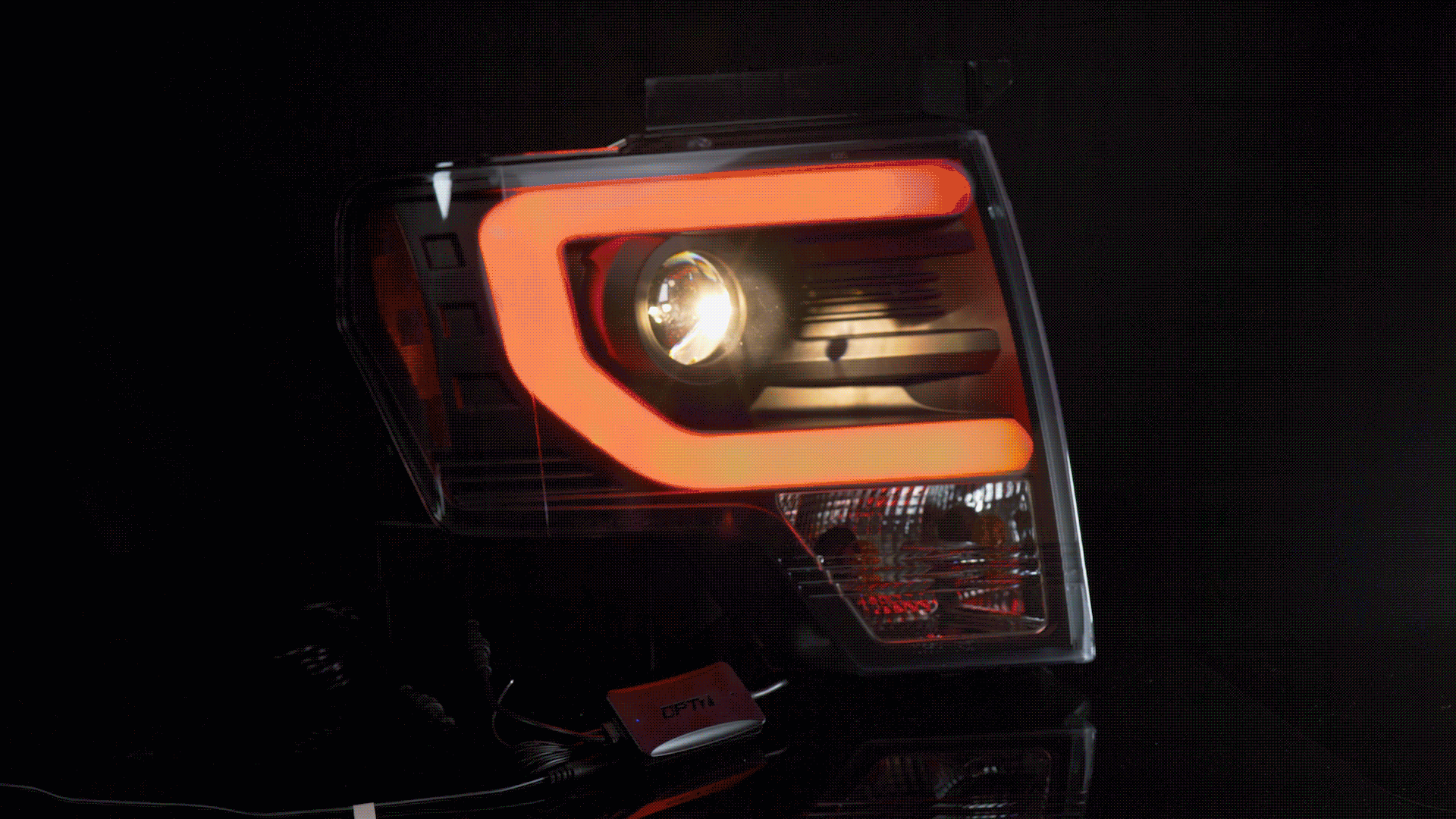 Compatible with:
2009-2014 Ford F150 All Trims (including Raptor)
Not Compatible with F150 Models that use OEM HID Headlights.
Plug and Play Plug for H13
AURA PRO™ OPT7 Connect APP:
Proprietary Scalable Technology!
Our custom build one means we've got a ton of features down the road that you will benefit from as we update the app and our control box has been engineered to handle that ahead of time.
Presets: Save up to 3 favorite colors on Solid, Strobe and Color-Fade mode
Endless color selections
Brightness dimming selections
On the OPT7 Connect APP, our modes are: Solid, Strobe, Color Fade, Cycle, SoundSync
Door-Assist-Entry : To use this feature, you must connect the AUX wire on the control box, check manual for more details, it will allow the lights to turn light up upon door opening.
- Ability to control up to 4 AURA™ LED Kits at once 
- App is downloadable for iOS and Android users
- The AURA PRO™ App was built, designed, and developed by our team and we keep the APP updated with the newest features
Product Specifications:
One AURA PRO Bluetooth control box
2 x RGBW Y-Splitter
Infinite Color system with AURA PRO
True Plug & Play Installation - 5 Minute Setup
OPT7 F150 Projector DRL Headlight- Double The Impact, Double The Protection.
Steal attention with F150 headlights lined with Stryker RGBW LEDs - specially designed to enhance the look of your F150.
Exclusive UltraBeam Projector lens throws light 2X further for increased visibility and safer driving on and off the job.
Double layer of EVRCLEAR UV hard coat prevents yellowing and fogging caused by sun damage.
Simplified Installation.
User-friendly setup manual and all essential accessories come in the box.
FREE 60 Days Love or Return it Return policy backed by 10+ years of service and support.
Item Description.
Comes in a Pair. Left Side (Driver Side) & Right Side (Passenger Side)
Projector Headlight Design, Providing a more modern design and better projection than the traditional Reflector lens.
Housing Color:  Solid Matte Black Paint Housing
Frost Matte Tube: Our leading edge "Plasma-Tubes" offer an intense lighting accent that is extremely luminous and is DRL compatible giving a modern looking vehicle presence
Specification: Low Beam: Comes with H7 Light Bulb High Beam: Comes with H7 Light Bulb
DOT Approved for White DRL Function ONLY. Color Options are for Off Road or Parked applications ONLY.
This item Has a 60 Days Limited Warranty. If This Item Has Problem Due to Manufacturing
Defects during proper intended use, we will replace parts only (Shipping Not Included)
Item Weight : 24.1 pounds
Package Dimensions : 22.2 x 21.9 x 18.9 inches
Kit Includes:
2 x F150 09-14 Projector Headlights (Left and Right)
2 x H7 Halogen Bulbs
1 x AURA PRO Bluetooth control box
3 x Fuse Taps
1 x 10ft Extension Cable
1 x Hardwire Power Harness
2 x Scothloks
10 x Zip Tie
1 x Digital Manual
Installation Guide.
AURA PRO™ RGBW 09-14 F150 LED Projector Headlights Installation Guide - CLICK HERE
CA Residents:  WARNING: Cancer and Reproductive Harm - www.P65Warnings.ca.gov