Dodge Challenger 08-23 Aura Pro Bluetooth DRL Halo RGB - Install Friendly
AuraPro-INSTP-Kit-DodgeC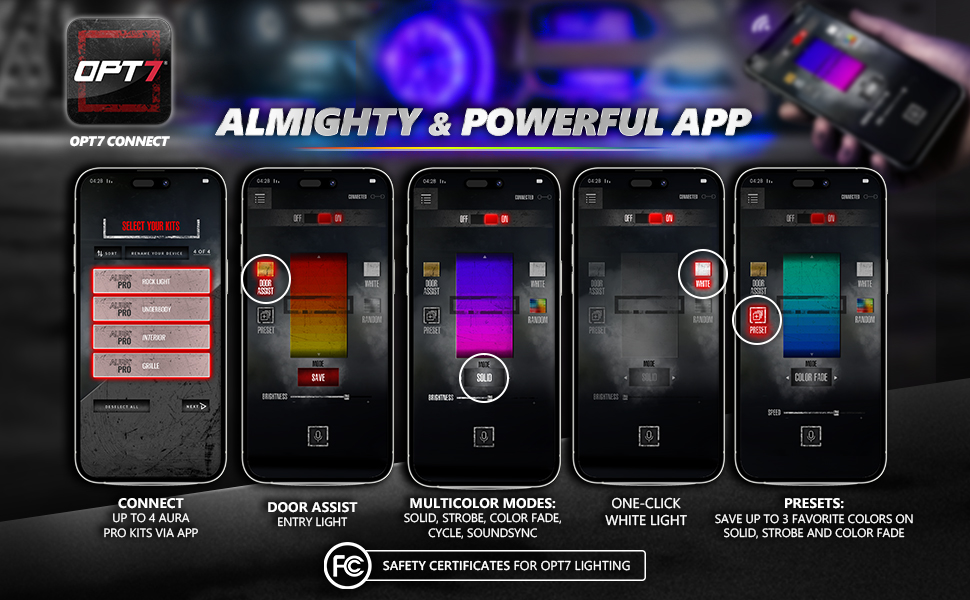 AURA PRO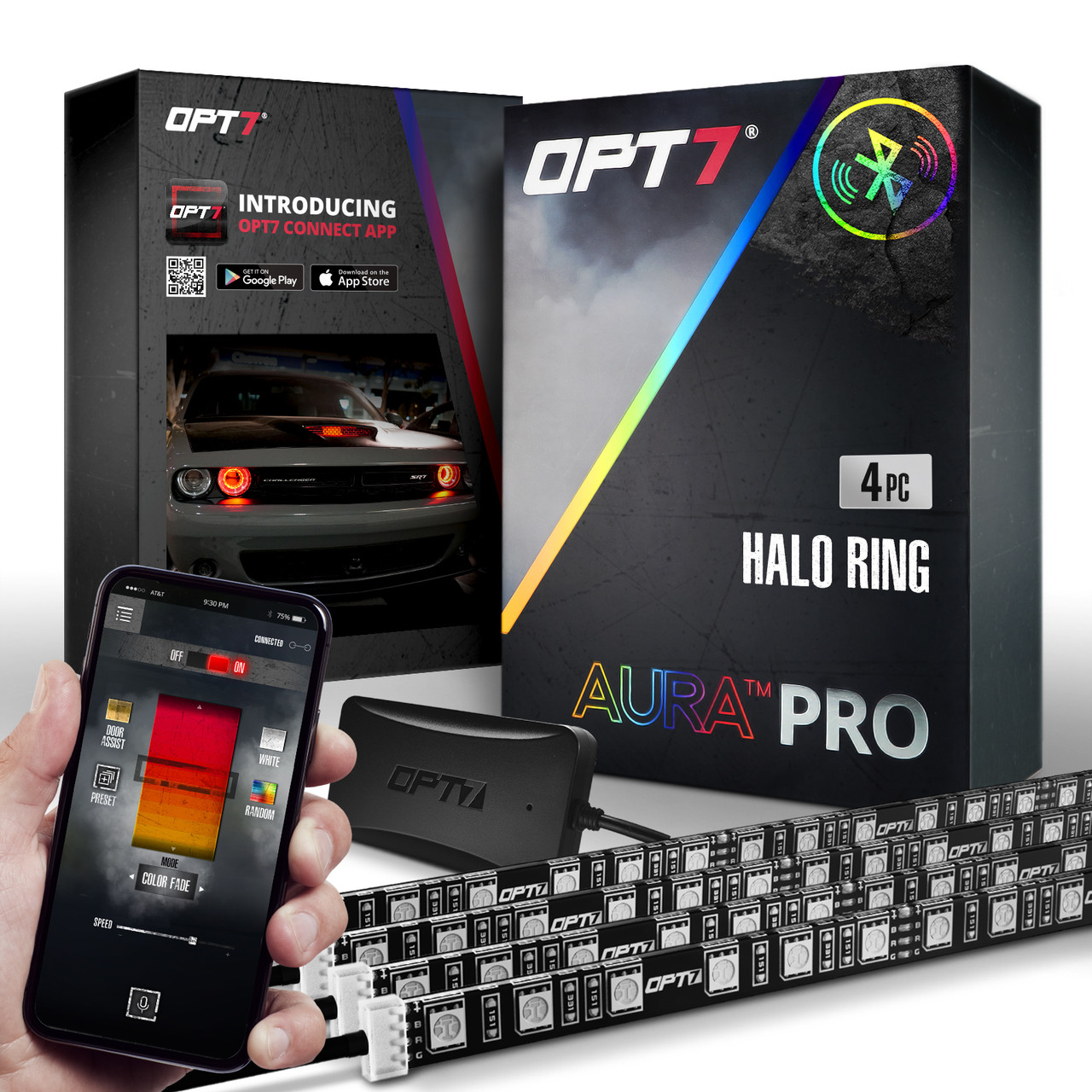 Bluetooth ONLY
AURA™ PRO Halo DRL LED Light Kit Includes:
1 x AURA PRO™ Bluetooth Control Box
2 x Y Splitters
4 x 12" LED Strips with Adhesive Back
4 x 10ft Extension Wires
1 x 10 ft In-line Fuse Hardwire Power Harness
1 x Pack of Mounting Kit and Zip Ties
OPT7's award winning AURA PRO Bluetooth LED Lighting Kit has brought a custom innovation for your 2008-2023 Dodge Challengers. If you are looking to have a pop of color in the Halo DRL angel eye rings, this is the product for you. Easy to install and easy on your wallet for a standout DIY mod. Checkout the installation video on YouTube, video link below.
Full Bluetooth capability
Control up to 3 other AURA kits to pair with your challenger Halo Rings
These kits DO NOT require a disassembly of your OEM headlights as they mount around the existing OEM housing for easy Plug & Play
1 Way to Run the Show.
Choose from the ALL NEW AURA PRO™ LED Bluetooth App Enabled Phone Controller. (iOS & Android Compatible)
Features of AURA PRO™ Bluetooth Dodge Challenger 08-23
AURA™ Our all New AURA PRO Bluetooth Enabled APP
Control up to 4 AURA Bluetooth Kits at the same time
2x the distance than any other Bluetooth on the market
Connectivity pass through chipset, don't let where you install the control box affect your connectivity like other kits out there
App updates allow for future feature enhancements that generic kits can't provide
Multiple Flash/Beat/Flow Modes
Endless color selection
Bluetooth App Enabled Phone Controller. (iOS & Andrioid Compatible)
Kits come with a seperate mountable On/Off switch
OPT7 Connect APP:
Proprietary Scalable Technology!
Our custom build means we've got a ton of features down the road that you will benefit from as far as update the app and our control box has been engineered to handle that ahead of time.
Presets: Save up to 3 favorite colors on Solid, Strobe, Color Fade modes
Endless color selections
Brightness dimming selections
On the OPT7 Connect APP, our modes are: Solid, Strobe, Color-Fade, Cycle
- Ability to control up to 4 AURA™ LED Kits at once 
- App is downloadable for iOS and Android users
- The AURA PRO™ App was built, designed, and developed by our team and we keep the APP updated with the newest features
Versatility Meets Flexibility
AURA Lighting Strips are flexible enough to bend, twist and curve around any surface and provides heavy cover against any weather conditions.
Safe & Neat Installation
Inline fuse power harness allows you to use the battery direct connection. This allows a direct battery and a protected power pull, so you don't need to worry about an overdrawn-on voltage. Safe & neatly done supported!
NEED MORE LENGTH for customized installation? Search: 
Warranty Covered:
Includes our free 1 Year Warranty (starting from the order date)
Installation Guides.
AURA PRO Bluetooth Dodge Halo Ring (In-line Fuse Only) Guide - Here
CA Residents: 
WARNING: Cancer and Reproductive Harm - www.P65Warnings.ca.gov