AURA Remote Control Day Time Running Light DRL Halo RGB for Dodge Challenger 08-23 - Install Friendly
AURA-DODGE-HALO-08_20-G3



AURA Original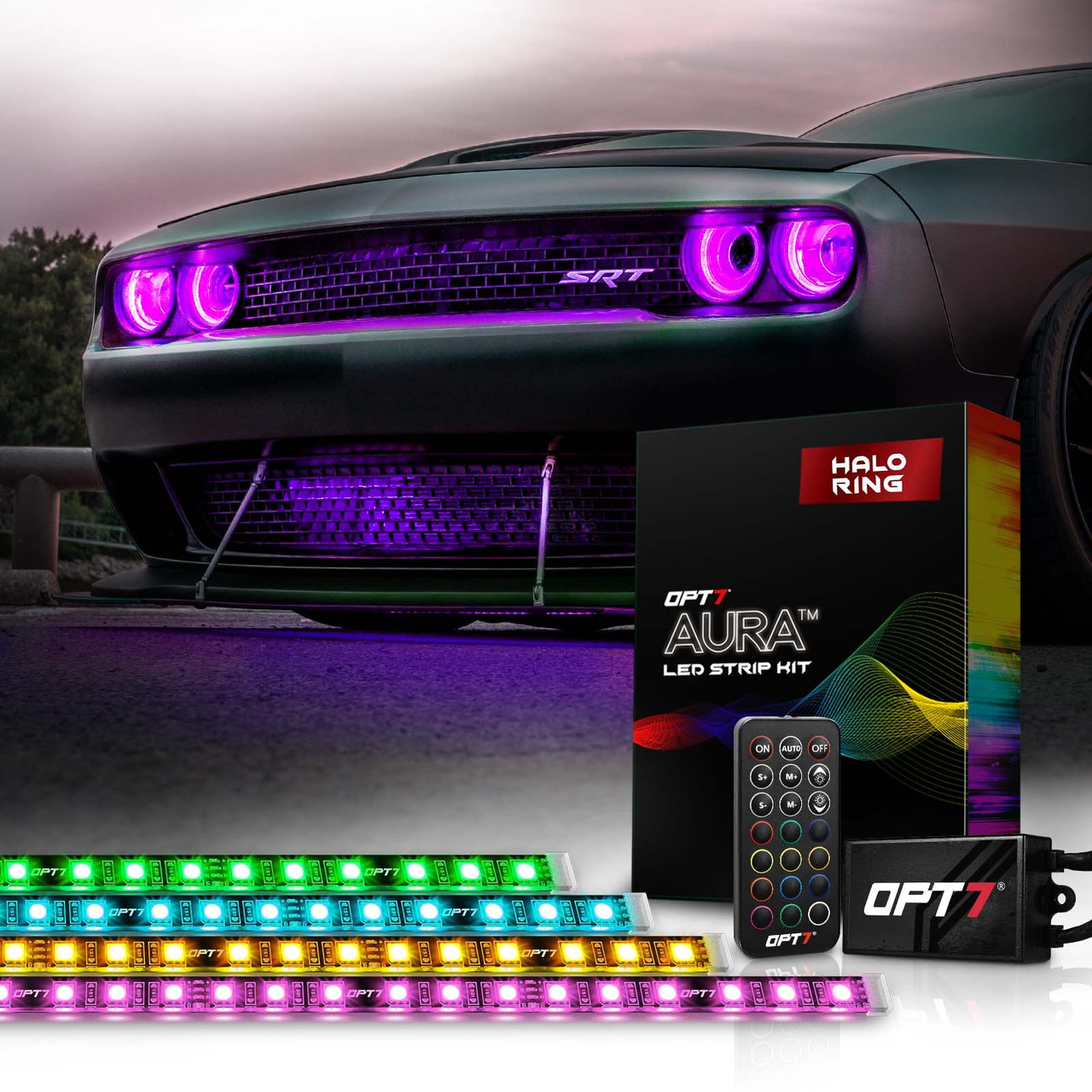 Remote Included
AURA™ Original Halo DRL LED Light Kit Includes:
1 x Handheld Remote
1 x AURA™ V2 Control Box (P) + 4-Pin Round Waterproof Pre-Attached Connectors
4 x 12" LED Strips with Adhesive Back
4 x 10ft Extension Wires
1 x 10 ft In-line Fuse Hardwire Power Harness
1 x Pack of Mounting Kit and Zip Ties
1 Way to Run the Show.
Choose from our AURA™ Original IR Dual Handheld Remote.
Full Color Spectrum with SmartColor LEDs
Our revolutionary LED design combines Micro-LEDs of all 3 primary colors into a single SMD. This allows a perfect mixture of color at the micro level, emitting a more pure, brilliant light color.
Versatility Meets Flexibility
AURA Lighting Strips are flexible enough to bend, twist and curve around any surface and provides heavy cover against any weather conditions.
Safe & Neat Installation
Inline fuse power harness allows you to use the battery direct connection. This allows a direct battery and a protected power pull, so you don't need to worry about an overdrawn-on voltage. Safe & neatly done supported!
NEED MORE LENGTH for customized installation? Search: 
Waterproof Connectors are here to stay!
Get OPT's AURA Halo game-changing lighting system that installs in minutes and lasts for years to come!
E-Z Programming.
Once installed, easily select the color and pattern you want with our feature-rich E-Z Remote.
12 Solid Colors
19 Modes
8 Levels Speed
8 Levels Dimmer
Warranty Covered:
Includes our free 1 Year Warranty (starting from the order date)
Installation Guides.
AURA Original Dodge Halo Ring (In-line Fuse Only) Guide - Here
CA Residents: 
WARNING: Cancer and Reproductive Harm - www.P65Warnings.ca.gov