AURA PRO Boat Interior LED Lighting Kit 4 x 24-Inch Multi-Color Strips - Bluetooth Enabled APP Full Color Spectrum
AuraPro-WheelWell-Kit-Boat
10% OFF Using Coupon Code: 10XMAS2023
Date: Dec. 8th - 19th PST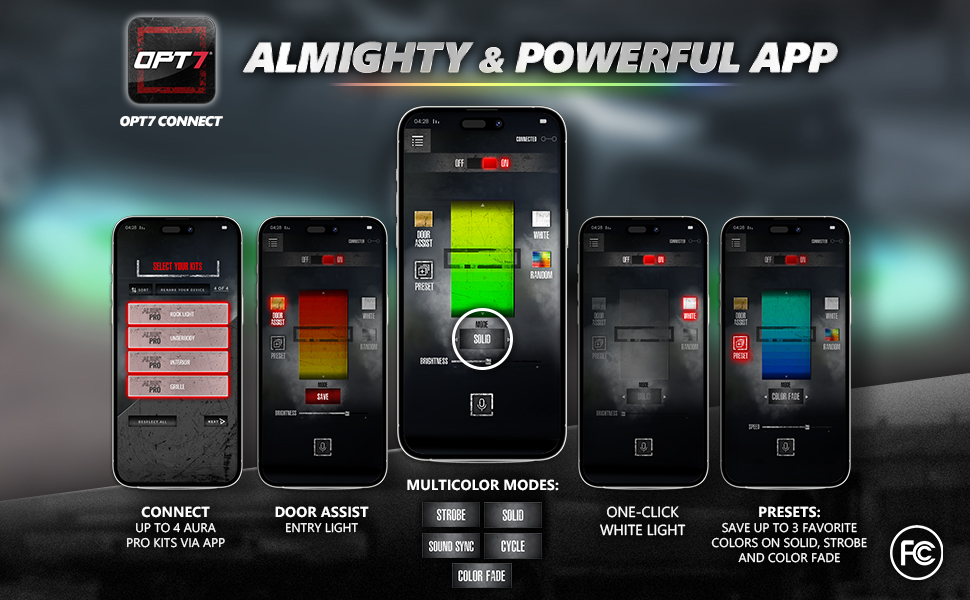 Premium solution to custom marine lighting. Designed for simplicity, but engineered for feature-rich, brilliant colors. Our AURA™ Boat Interior Lighting Kit puts inspiration within your control.
AURA PRO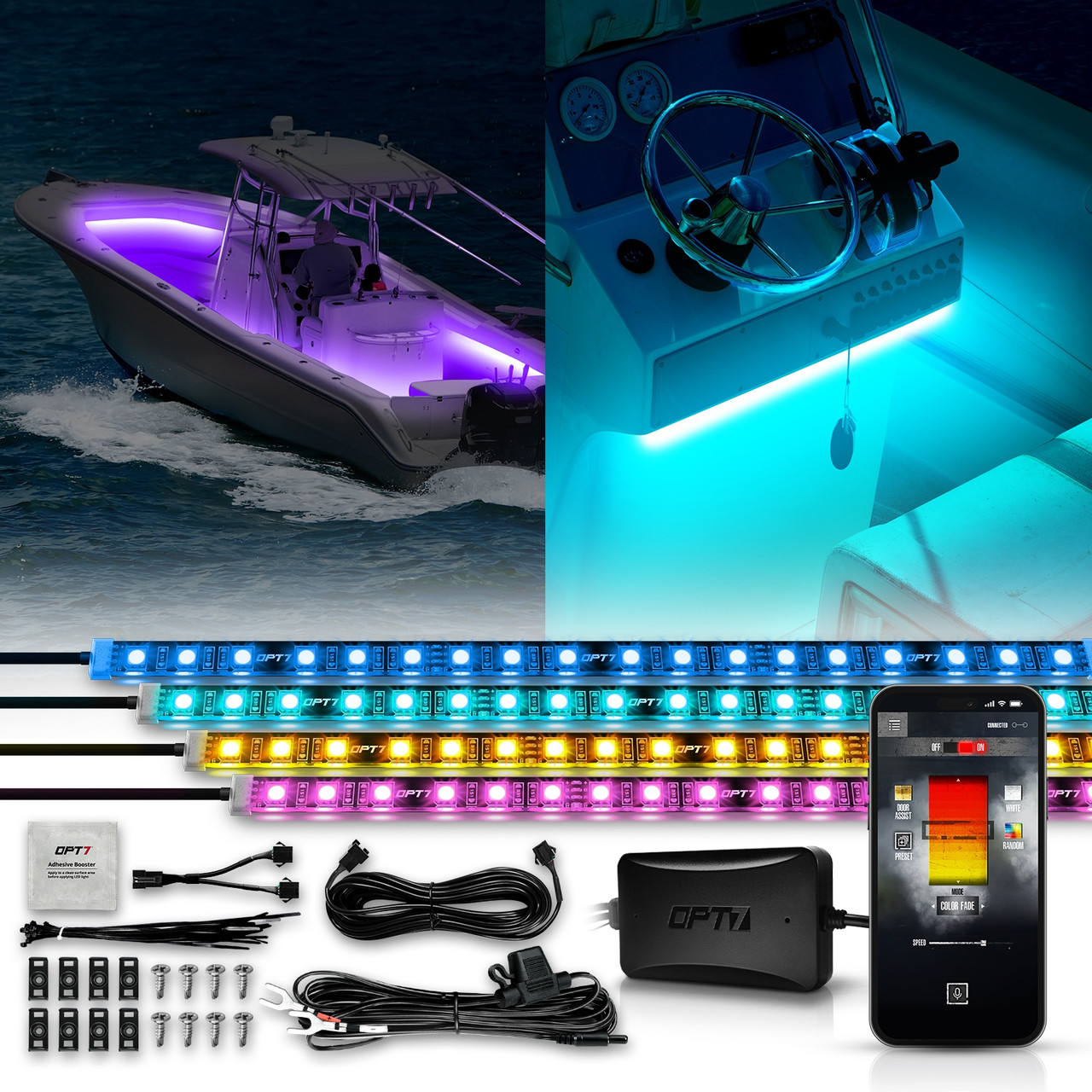 Bluetooth ONLY
AURA PRO™ Boat LED Light Kit Includes: 
1 x AURA PRO™ Bluetooth Control Box
2 x Y Splitters
4 x 24" LED Strips with Adhesive Back
4 x 10ft Extension Wires
1 x 10ft In-line Fuse Hardwire Power Harness
1 x Pack of Mounting Kit and Zip Ties
Full Color Spectrum with SmartColor™ LEDs. 
AURA™ Lighting Strips are made with SmartColor™ LEDs. Our revolutionary LED design combines Micro-LEDs of all 3 primary colors into a single SMD. This allows a perfect mixture of color at the micro level, emitting a more pure, brilliant light color.
Versatility Meets Flexibility. 
AURA™ Lighting Strips are flexible enough to bend, twist, and curve around any surface.
Hear It, See It, Feel It with SoundSync™. 
When the beat drops and you're lost in the moment, your heart won't be the only thing racing. SoundSync™ illuminates the music with finely tuned bass-activated technology. It's time to experience your music in a whole new light.
Built Tough. Built for the River.
AURA LED Strips are built to last. Constructed and filled with dense silicone. Our kits are designed to protect against road debris, moisture and anything life can throw at it.
IMPORTANT: The LED connectors are not waterproof. You will need to use heat shrink tube or electrical tape around the LED connectors to ensure the longevity of the lighting kit.
OPT7 Connect APP
Scalable Technology!
Our custom build one means we've got a ton of features that you will benefit from as we update the app and our control box has been engineered to handle that ahead of time.
Multi-color selections
Brightness dimming selections
On the OPT7 Connect APP, our modes are: Solid, Strobe, Multi-Color Fade, Multi-Color Cycle, SoundSync
Door-Assist-Entry (Light upon door open. Must connect AUX wire on the control box.)
- Ability to control up to 4 AURA™ LED Kits at once 
- App is downloadable for iOS and Android users
- The AURA PRO™ App was built, designed, and developed by our team and we keep the APP updated with the newest features

Safe & Neat Installation
Inline fuse power harness which allows you to use the battery direct connection. This allows a direct battery and a protected power pull so you don't need to worry about an overdrawn on voltage. Safe & neatly done supported!

NEED MORE LENGTH for customized installation? Search: 

IMPORTANT NOTICE:
This product is intended to be connected as is, you may add our expansion kits; however, it should not exceed more than 1 AURA kit + 1 AURA Single Row Expansion kit.
AURA LED Lighting Kit using one set of

2pc 12-inch Single Row LED strips kit

or one set of

4pc 4-inch Single Row light strips expansion kit

.

Warranty Covered:
Includes our free 1 Year Warranty (starting from the order date)

Installation Guide.
AURA PRO™ Boat Bluetooth Lighting Kit (In-line Fuse Only) Guide - Here
CA Residents: 
WARNING: Cancer and Reproductive Harm - www.P65Warnings.ca.gov