AURA PRO ATV-UTV Underbody Glow LED Lighting Kit - Bluetooth Enabled APP - Full Color Spectrum
AuraPro-Motor-Kit-ATV
AURA PRO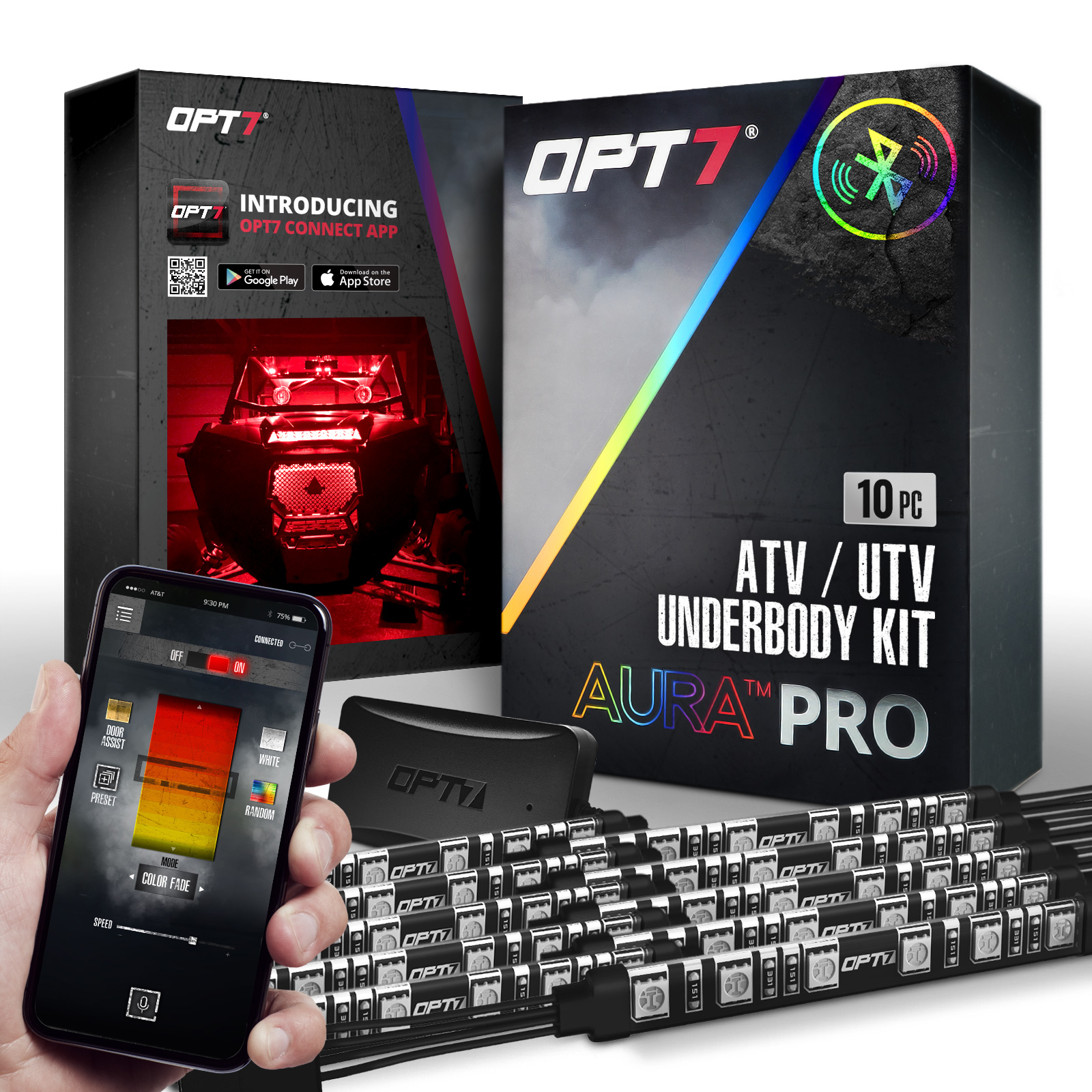 AURA™ PRO ATV/UTV LED Light Kit Includes:
1 x AURA PRO Bluetooth Control Box
7 x Y Splitters
1 x Small Screw Driver
10 x 4" LED Strips Single Row
2 x 48" Extension Wires
1 x ON/OFF Power Adapter Wire
4 x 8" Chord (Extension Wires)
6x Brighter with 3-into-1 SmartColor™ LED.
Paint your aggressive ATV or Side x Side with the vivid glow of AURA LEDs. Unlike traditional LED strips that use single-color SMD's to simulate color, AURA light strips are made with 3-into-1 SmartColor SMD's. These powerful SMD's combine micro-LED's of all colors into one refined wide-angle light. Giving you a stronger, more vibrant light with even more color options.
1 Way To Run The Show!
Choose from the ALL NEW AURA Pro™ LED Bluetooth App Enabled Phone Controller. (iOS & Android Compatible)
Kit comes with a separate mountable On/Off switch.
Every Option You Need.
Infinite Colors with fader options. Plus, three light shows with speed control to get you going.
Color Strobe: Brightness gradually increases into a full glow and then fades to black. Works on all colors.
Color Fade: Colors automatically fade into each other in a smooth transition.
Color Cycle: Colors automatically cycle between each other with zero-fade.
AURA™ Remembers. 
Other light kits forget which color you had on last. Imagine having to reset your light color every time you turn on your ATV-UTV. Not cool!
With AURA's LED strips, your bike glows the exact color you want, every time.
Can Be Placed Anywhere!
Flexible design makes it easy to mount anywhere you want. Perfect for fenders, fairings, frames, fuel tanks, or saddlebags.
Just don't place directly on moving parts or exhaust pipes.
Lasts Longer Than Your ATV-UTV. 
AURA™ strips are wrapped in protective polymer to prevent any water, dirt, or excessive heat damage. 
Hear It, See It, Feel It with SoundSync™ (Optional Add-on).
SoundSync™ uses bass-activated technology to illuminate your LED strips to the beat of your music. For a head-turning light show, pump up the volume and watch your bike flash to your favorite song.
Universal Fit.
Made for all makes and models. Cruisers, touring, custom bikes, ATV's, etc.
BMW, Ducati, Harley Davidson, Honda, Indian, Suzuki Triumph, Victory, Yamaha and More.  
Built Tough. Built for the Road.
AURA LED Strips are built to last. Constructed of aluminum and filled with dense silicone. Our kits are designed to protect against road debris, moisture and anything life can throw at it.
IMPORTANT: The LED connectors are not waterproof. You will need to use heat shrink tube or electrical tape around the LED connectors to ensure the longevity of the lighting kit.
Automotive Adhesive Tape
Don't waste time re-sticking loose strips that used adhesive tape. AURA™ strips hold on tight with authentic adhesive tape, specially designed to handle years of shaking engines and stormy weather.
AURA PRO™ Bluetooth Modes:
Color Adjustable on Solid Mode
Color Adjustable on Door Assist (lights up when you open the door on the vehicle)
Pulse Mode 
Strobe Mode
Cycle Mode
Soundsync™ Mode
- Ability to control up to 4 AURA™ LED Kits at once 
- App is downloadable for iOS and Android users
- The AURA PRO™ App was built, designed, and developed by our team and we keep the APP updated with the newest features
Warranty Covered:
Includes our free 1 Year Warranty (starting from the order date)
Installation Guides.
AURA PRO Bluetooth ATV/UTV Single Row LED Strip Kit Installation Guide - HERE
CA Residents:  WARNING: Cancer and Reproductive Harm - www.P65Warnings.ca.gov