AURA 09-18 Ram Bundle- RGBW Headlights +Interior + Quantum Rock lights + Grille w- Bluetooth
AURAPRO-RAM-INTERIOR-GRILLE-QUANTUM-BUNDLE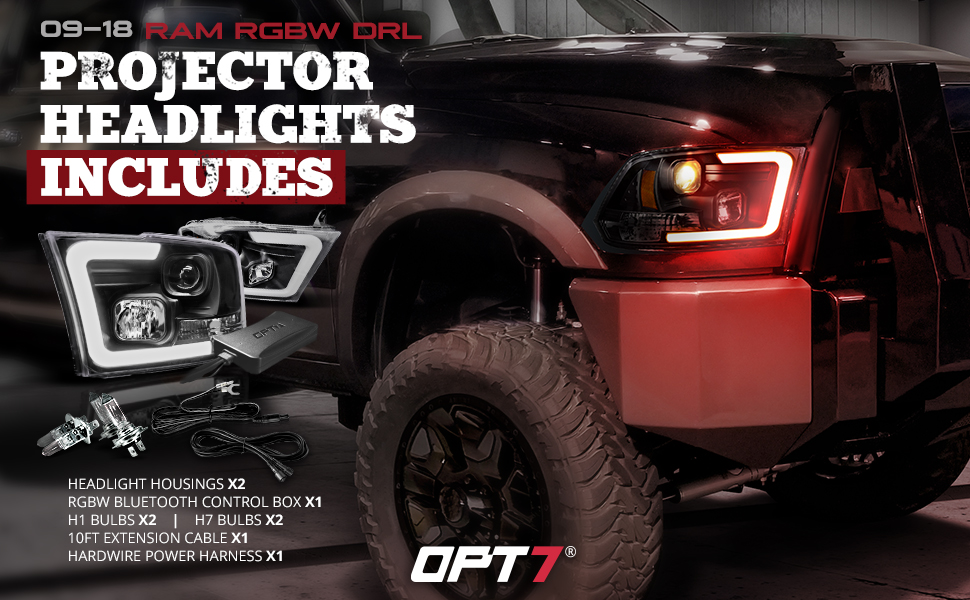 1 Way To Run The Show!
Choose from the ALL NEW AURA PRO™ LED Bluetooth App Enabled Phone Controller. (iOS & Android Compatible)
Top Features of Dodge RAM 09-18 Projector Headlights
BUILD IN RGBW Color DRL- OPT7 is the only leader to carry built in RGBW Color changing Headlights. Seamlessly Crisp Stryker RGBW LED DRL Boards built on a Fully Developed AURA Bluetooth App Interface.(iPhone/Android Ready).
PRE-BUILT PLUG and PLAY - NO opening headlights lens. No buying separate LED RGB Boards.No core exchanges, No waiting 1+ Month for your headlights to finish.
PAIR and SYNC - Up to 4 of the AURA PRO Line of Products like the LED Interior, LED Underglow, LED Wheel Well, LED Grille. Match all kits lighting with the touch of your phone. (iOS and Android Compatible).
OPT7 QUALITY. 10+ Years of Automotive Lighting Innovation.
Dodge RAM 09-18 Projector Headlights Fitment:
2009-2018 Dodge RAM 1500
2010-2019 Dodge RAM 2500 and 3500
Not Compatible with RAM Models that use OEM LED Headlights.
Dodge RAM 09-18 Projector Headlights Description:
Comes in a Pair. Left Side (Driver Side) and Right Side (Passenger Side), basically a kit!
Projector Headlight Design, Providing a more modern design and better projection than the traditional Reflector lens.
Housing Color: Solid Matte Black Paint Housing.
Frost Matte Tube: Our leading edge "OPT7 Plasma-Tubes" offer an intense lighting accent that is extremely luminous and is DRL compatible giving a modern looking vehicle presence.
Specification: Low Beam --- Comes with Halogen Light Bulb,High Beam: Comes with Halogen Low Beam Light Bulb.
DOT Approved for White DRL Function ONLY. Color Options are for Off Road or Parked applications ONLY.
This item only holds a 30 Days Limited Warranty due to manufacturing(Starting from the order date).
Defects during proper intended use, we will replace parts only (Shipping Not Included)
Vehicle Service Type 09-18 Dodge RAM
Item Weight: 24.1 pounds
Package Dimensions: 22.2 x 21.9 x 18.9 inches
AURA PRO Includes:
Dodge RAM 09-18 Projector Headlights Kit Includes:
2 x RAM 09-18 Projector Headlights (Left and Right)
2 x Halogen Bulbs
1 x AURA PRO Bluetooth Control Box
3 x Fuse Taps
1 x 10ft Hardwire Power Harness
2 x Scotch Locks
1 x Zip Tie
1 x Digital Manual
AURA PRO™ Bluetooth Quantum Lighting Kit Includes:
1 x AURA PRO™ RGBW 5-PIN Bluetooth Control Box
2 x Y Splitters
1 x 10ft In-line Fuse Power Harness
1 x Mounting Pack of Screws and Zip Ties
In this bundle, the kits will include:
Full Color Spectrum with SmartColor™ LEDs.
AURA™ are made with SmartColor™ LEDs. Our revolutionary LED design combines Micro-LEDs of all 3 primary colors into a single SMD (Surface Mounted Device). This allows a perfect mixture of color at the micro level, emitting a more pure, brilliant light color.
Built Tough. Built for the Road.
AURA LED Strips are built to last. Our kits are designed to protect against road debris, moisture and anything life can throw at it.
OPT7 Connect APP:
Proprietary Scalable technology!
Our custom build means we've got a ton of features down the road that you will benefit from as far as update the app and our control box has been engineered to handle that ahead of time.
Endless color selections
Brightness dimming selections
On the OPT7 Connect APP, our modes are: Solid, Strobe, Pulse, Color Fade, SoundSync
Door-Assist-Entry (Light upon door open)
- Ability to control up to 4 AURA™ LED Kits at once
- App is downloadable for iOS and Android users
- The AURA PRO™ App was built, designed, and developed by our team and we keep the APP updated with the newest features
Warranty
 - AURA PRO Quantum Rock Light RGBW are backed by OPT7's 2-Year Warranty.
 - AURA PRO Interior 12" Kits  and Grille 12" Kits  are backed by OPT7's  1-Year Warranty.
 - 2009-2018 Dodge RAM AURA RGBW DRL Headlights Projector holds a 30-Day Warranty.
 - Got questions, issues, or concerns?
 * Reach out to our Customer Support Team by emailing , and we'll respond to your email within 1-2 business days
Installation Guide
2009-2018 Dodge RAM AURA RGBW DRL Headlights Projector Installation Guide - HERE
AURA™ PRO Quantum Rock Lights - RGBW Installation Guide - HERE
AURA™ PRO Bluetooth Grille Led Kit Installation Guide - HERE
AURA™ PRO Bluetooth Interior Single Row LED Kit Installation Guide - HERE
AURA™ PRO Door Assist AUX Wiring Installation Guide - HERE
CA Residents: 
WARNING: Cancer and Reproductive Harm - www.P65Warnings.ca.gov