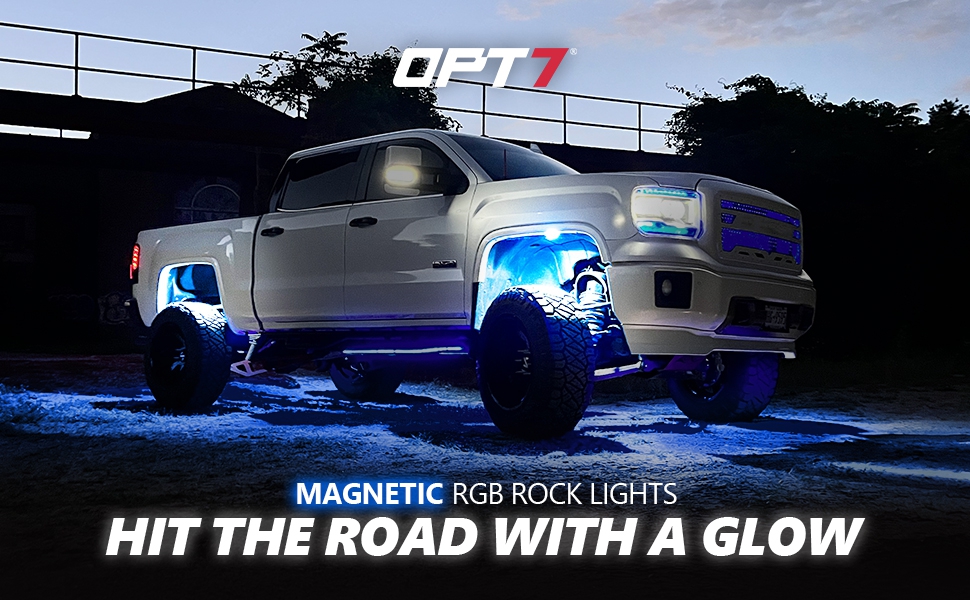 OPT7 Photon RGB/White LED Rock Light with Magnet Limitless Lighting. Limitless Adventures.
The OPT7 Off-Road Experience These exclusive Rock Lights have been engineered by the OPT7 Team to take your off-road experience to a new era. Designed specifically for extreme terrain, the Photon LED Rock Lights are the next evolution in our off-road product line. The magnet installation method provides you with the easiest way to mount the pods to anywhere you like. Multiple color options illuminate over 10 square feet making sure that your rig is equipped with unmatched style on and off the road.
Magnet installation
Magnet installation provides you easy installation with no harm to your car and feels free to move the pods whenever and wherever. No drilling is needed, plus you don't need to worry about your car rusting..

Built Stronger
Each LED pod is encased in an aluminum alloy shell that allows you to grind fearlessly through rocky, mountainous terrain.

Built Water-Resistant
These Rock Lights have an IP68 waterproof rating so you can take the plunge in up to 3 feet of water. Plow through rivers, rapids, and mud without worrying about your LEDs getting wet.

Built to Conquer
Our kit comes with everything you need to get back to cruising, crawling, and climbing ASAP.

Photon RGB/White Technical Info:
Input Voltage: DC 12V

Input Power: Max 9.6/4.8Watts per Pod

LED Color: 6pcs/12pcs - RGB/White per Pod

Raw Lumens: 600/748LM (4 Pods Combined)

Waterproof: IP68 (Only Pod)

Operating Temperature: -5℉ ~ 120

℉
Photon RGB Rock Light Package Includes:
4 x Photon LED Pod


8 x Magnets

4 x 10ft Extension Wire(4PC)


4 x Double-Sided Tape

1 x Photon Control Box

1 x E-Z Hand-Held Remote

3 x Various Fuse Taps

16 x Mounting Screw

30 x Zip-ties

1 x 12V Power Harness

Additional Accessories add to complete kit:

Photon RGB Extension Wire 2pcs - Click Here
Photon White Rock Light Package Includes:
4 x Photon LED Pod


8 x Magnets

4 x Double-Sided Tape


16 x Mounting Screw

Various Zip Tie

Additional Accessories add to complete kit: Handle Switch - Click Here
IMPORTANT NOTE: This kit only contains LED PODS + Mounting Kit, additional Relay Switch, Extension Wires, and ON/OFF Rocker Switch is sold separately and must be used to power the kit. Our LED PODS are universally made, so you may use other brands for completed of the rock light vehicle installations.
The Photon RGB/White LED Rock Lights with Magnets are backed by OPT7.
Warranty
- Includes our free 1 Year Warranty
- Got questions, issues, or concerns?
* Reach out to our Customer Support Team by emailing , and we'll respond to your email within 1-2 business days
Installation Guide.
AURA Photon White Rock Light Kit-CLICK HERE
AURA Photon RGB Rock Light Kit-CLICK HERE
CA Residents:
WARNING: Cancer and Reproductive Harm -

www.P65Warnings.ca.gov