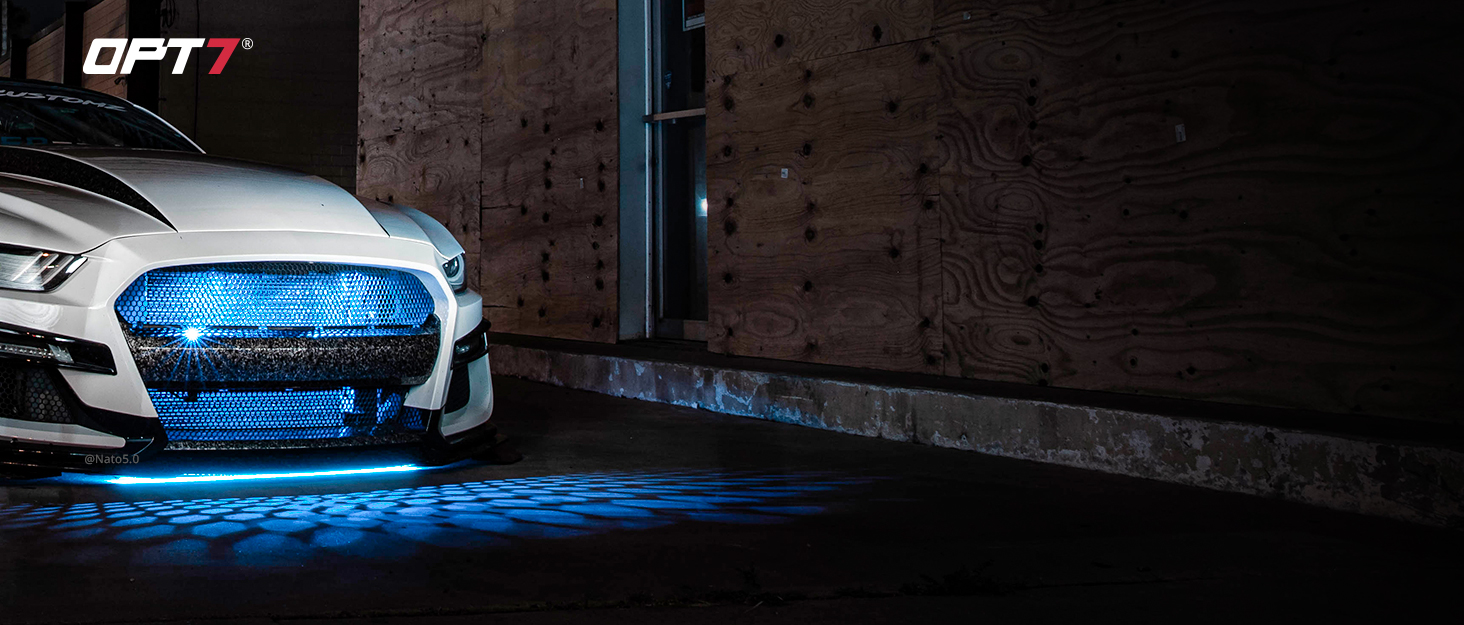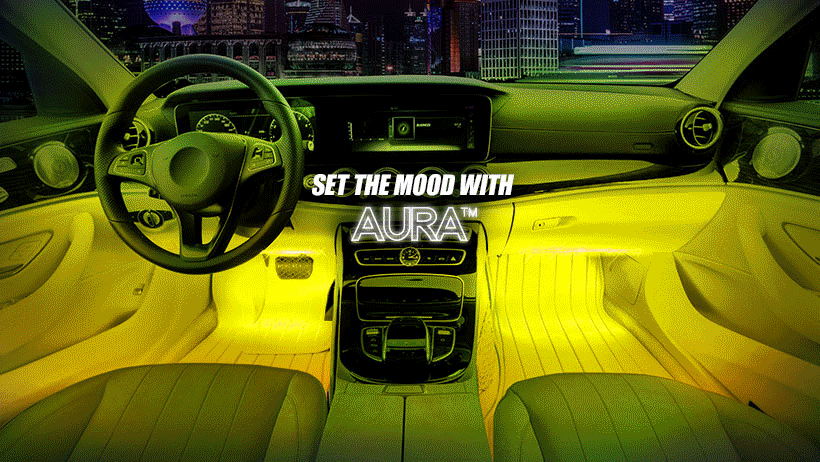 OPT7 Ford Mustang 15-17 Clear / Smoked LED Arrow Turn Signals + LED Interior + Grille w/Bluetooth

1 Way To Run The Show!
Choose from the ALL NEW AURA Pro™ LED Bluetooth App Enabled Phone Controller. (iOS & Android Compatible)
Arrow LED Front Turn Signals with Sequential Flash 2015, 2016, 2017 for Ford Mustang (Clear / Smoked)
Compatible with all 2015-2017 S-550 for Ford Mustangs (Ecoboost, V6, GT)

2.3L I4 Ecoboost (Coupe/Convertible)

3.6L V6 (Coupe/Convertible)

5.0L V8 GT (Coupe/Convertible)

5.2L V8 GT350 Coupe
Compatible with all 2015-2021 Shelby GT350 for Ford Mustangs
Compatible with all 2015-2021 GT500 for Ford Mustangs
Made to replace stock turn signals with stock bumpers. Please double check fitment for aftermarket bumpers. *Bumper removal required for install
No Pesky Hyper Flashing / Bulb Failure Errors in the Dashboard.
With our custom chipset and built-in resistors, we have made sure the Arrow Turn Signals will never experience those annoying fast blinking dashboard issues know as hyper flashing. Hyper flashing issues typically arise when switching your incandescent turn signals to LEDs, but you don't have to worry about that since we did!

Aura Pro Includes:
AURA PRO™ Bluetooth Interior 4PC Single Row Lighting Kit Includes:
1 x AURA PRO™ Bluetooth Control Box

4 x 12" LED Strips with Adhesive Back


2 x 5ft + 2 x 10ft Strip Extension Wire(4PC)

1 x Cigarette Power Adapter

2 x Y Splitters

1 x Inline Fuse

1 x Mounting Pack of Screws and Zip Ties
In this bundle, the kits will include:
Full Color Spectrum with SmartColor™ LEDs.
AURA™ are made with SmartColor™ LEDs. Our revolutionary LED design combines Micro-LEDs of all 3 primary colors into a single SMD (Surface Mounted Device). This allows a perfect mixture of color at the micro level, emitting a more pure, brilliant light color.

Built Tough. Built for the Road.
AURA LED Strips are built to last. Our kits are designed to protect against road debris, moisture and anything life can throw at it.

OPT7 Connect APP:
Proprietary Scalable technology!
Our custom build means we've got a ton of features down the road that you will benefit from as far as update the app and our control box has been engineered to handle that ahead of time.

Endless color selections

Brightness dimming selections

On the OPT7 Connect APP, our modes are: Solid, Strobe, Pulse, Color Fade, SoundSync

Door-Assist-Entry (Light upon door open)
- Ability to control up to 4 Aura™ LED Kits at once
- App is downloadable for iOS and Android users
- The AURA PRO™ App was built, designed, and developed by our team and we keep the APP updated with the newest features


Warranty
- Includes our free 1 Year Warranty of AURA PRO Interior and Grille and 60 Days Warranty of Mustang Turn Signals
- Got questions, issues, or concerns?
* Reach out to our Customer Support Team by emailing , and we'll respond to your email within 1-2 business days
Installation Guide.
Ford Mustang 15-17 Turn Signals Installation Guide-CLICK HERE
AURA™ PRO Bluetooth Grille Led Kit Installation Guide-CLICK HERE
AURA™ PRO Bluetooth Interior Single Row Led Kit Installation Guide-CLICK HERE
AURA™ Door Assist AUX Wiring Installation Guide-CLICK HERE
CA Residents:
WARNING: Cancer and Reproductive Harm - www.P65Warnings.ca.gov