Boltzen AC CANBUS Series: 55w HID Kit
$125.95
$79.95
Product Description
Xenon Lighting: Perfected.
The new OPT7 HID Boltzen AC CANBUS lighting kit comes with everything you need to make the ultimate upgrade in HID lighting technology.
Be Seen For Miles.
With the Z-Arc xenon HID bulbs, your vehicle shines brighter. This keeps you safe with the greatest on-road visibility, and also provides a great custom look that makes your car stand out!
Why Z-Arc Bulbs?
Our Z-Arc bulbs are UV-cut quartz that have been vacuum induced with xenon gas to produce a clear beam that is 5x brighter than stock halogens!
They use 35% less power than halogen and last up to 2-3x as long without fading.
Insulated wiring prevents the bulbs from overheating and early burnouts.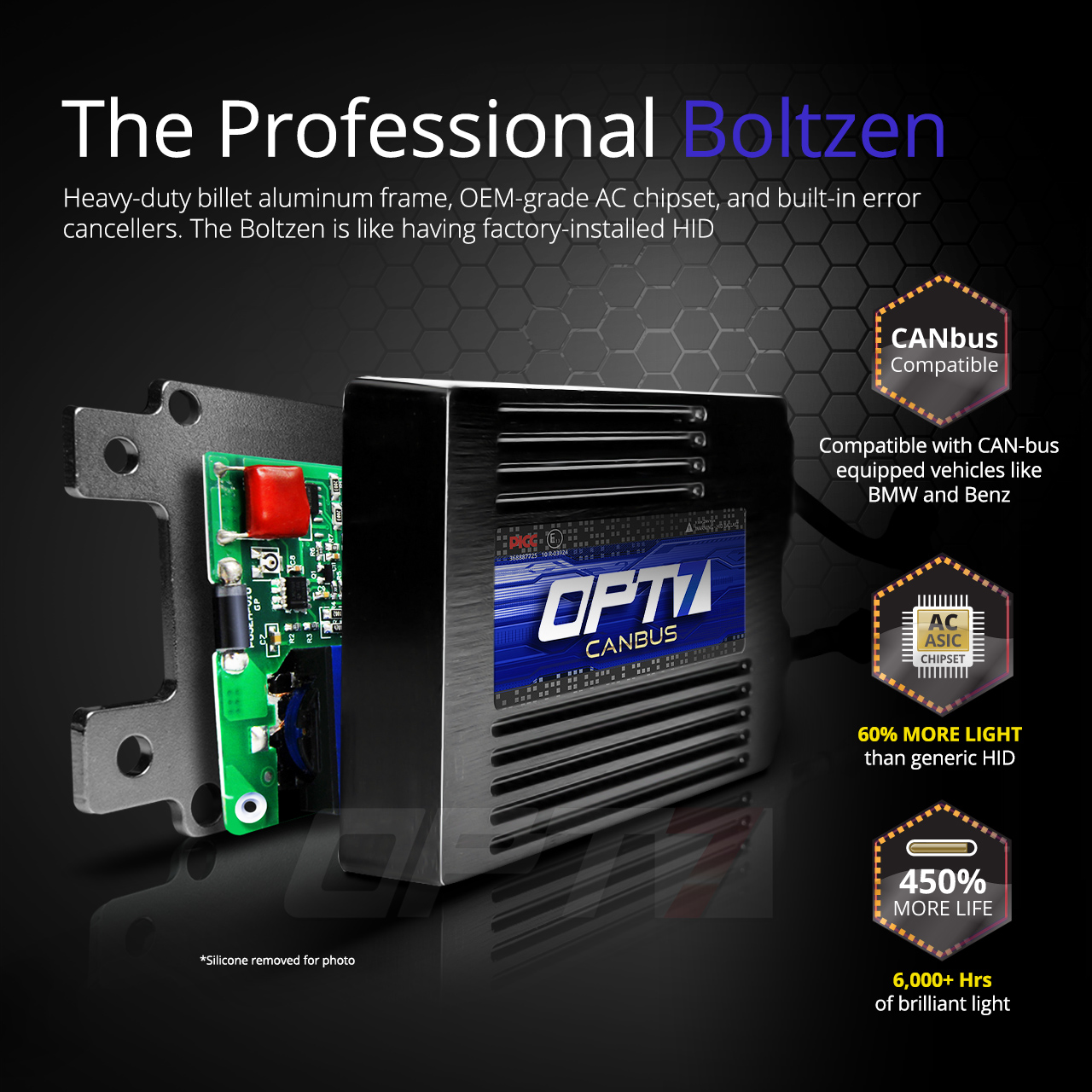 But that's only half the story, check out the Boltzen AC 55w CANBUS Series Ballast:
The premium line of the OPT7 HID ballast family and our most powerful, reliable, and longest lasting unit. CANBUS technology optimizes and adapts to your vehicle's power flow to produce a strong, powerful light that will last 5x longer than regular HID lighting kits. Boltzen CANBUS ballasts are just as powerful and reliable as OEM factory ballasts but at fraction of the price.
Why Choose the Boltzen Kit?
The Brightest: 20-30% brighter light (4100 Lumens) than our standard Bolt Series ballast.
The Smartest: AC CANBUS technology with built-in ECM warning canceller.
The Strongest: 100% weatherproof stainless steel case with OEM grade silicone sealant, lasts for 10+ years!
The Promised: Six-Sigma quality certification through 3 separates points of production.
Installation is a Breeze.
With Plug 'n' Play connections, installing the Boltzen HID kit is as easy as 1,2,3...
Check out our easy to follow installation guide.
Specifications:
Xenon Colors Available: 3000k Fog Yellow, 5000K Bright White, 6000K Lightning Blue, 8000K Ice Blue & 10000K Deep Blue.
Lumen Output: 4,100 Lumens.
Lifetime: 4,500 Hours.
Power Output: 55-watts.
Voltage: 9-16v.
Operating Temperature: -40 F - 220F.
Water Resistance: IP67 Rated (Up 9 Meters).
Casing: Aluminum/Polycarbonate.
Chipset: Blitz ASIC 2800.
Radio Interference Protection: Yes.
ReStrike Protection: Yes.
Kit Includes: 2 Bulbs, 2 Ballasts, Install Guide.
Ballast Dimensions: 3.3x 2.8x 0.8
CA Residents:
WARNING: Cancer and Reproductive Harm - www.P65Warnings.ca.gov
Other Details
IMPORTANT::
Ensure your vehicle has a CANbus CPU. Common applications include: 00+ European Makes. Please note, Dodge, Ram, Jeep and Chrysler vehicles have a TIPM CPU not a CANbus CPU.
Relay Considerations::
A relay increase efficiency, electrical draw, product life, and to a small degree brightness. It can also side step power issues related to the stock wiring and the CPU.
Capacitor Considerations::
Often used to cure flickering on both sides or a BOW (Bulb Out Warning)
Find Similar Products by Category